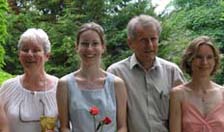 Discover the endless tranquility of the Sungarden Pension!
With us you find not only simple accommodation, but you can taste fine Tokaj wines, you can make yourself familiar with refreshing herbs and spices and many more opportunities can be exploited in active or quiet relaxation in the Sungarden Pension.
The Leskó Family Winery and Sungarden Pension provides accommodation for relaxation in one of the most beautifully situated wine-growing villages of the Tokaj Wine Region: in Mád. The area in northeastern Hungary is since 2002 part of the UNESCO World Heritage Site. Our family has been dedicated to the vineyards for generations - many of our ancestors have always played an important role in the former wine culture from Tokaj, Eger and the southern Great Plain. Territory fidelity, wild life, harmony with the plants are very important for us. These principles also guided the establishment of the Sungarden Pension.

Admire the delightful splashing goldfishes and in the sun stretching lazy cats, take a walk in the fragrant garden! Relax in one of our comfortable, newly built guest rooms, and start the day with a delicious, hearty breakfast! The Leskó Family welcomes you!